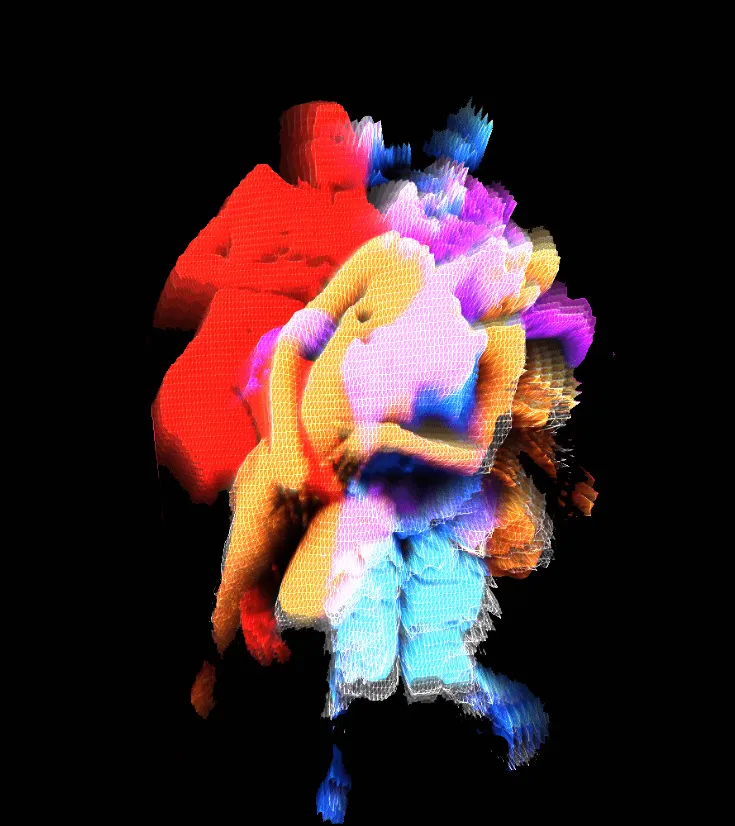 Performance Anxiety — Part II
Artists
Ellie Pritts
Kika Nicolela
Saeko Ehara
Aun Helden
Verse is pleased to host Performance Anxiety, curated by Kate Neave. Working with external curators, Verse aims to present works by the digital artists shaping culture today. We can only go so deep ourselves, and so were thrilled when Kate reached out to us with an exhibition that digs deep into conceptually and historically groundbreaking artworks by artists that deserve more of a spotlight.
Kate is an independent curator of contemporary art and art writer contributing to magazines such as Twin, Heroine, Epoch, Public Offerings and Dazed. She is the founder and curator of Ellipsis Prints, commissioning prints from talented women and non-binary artists in the UK. She has curated for Soho House, Manifesta and recently commissioned new music x digital art collaborations for OpenLab. Kate holds an MA in History of Art from the University of Cambridge and an MA in Contemporary Art from Sotheby's Institute in London.
In Performance Anxiety, Kate pursues her long term commitment to championing underrepresented artists with an exhibition that investigates how women and non-binary artists are harnessing the digital space to create a new disruptive dialogue around the body.
Performance Anxiety is a two part exhibition that includes the artists Alfacenttauri, Aun Helden, Auriea Harvey, Hardmetacore, Kika Nicolela, Martina Menegon, Saeko Ehara, Ellie Pritts and Tabitha Swanson.
Explore Performace Anxiety Part I.
"How can we come together in solidarity?" asks Legacy Russell in Glitch Feminism: A Manifesto, "It is our responsibility collectively to infect...to make impossible pathways viable as all else circuits towards a triggered collapse."
Digital space offers the potential for a recalibration. In digital, many rules are suspended and others are easily broken. This presents an opportunity to challenge the restrictive social, political and cultural discourses associated with the body and to step outside the tidy boxes we are expected to fill. It's a space in which we can assert our presence, reclaiming the body to distort tired narratives. Performance Anxiety features women and non-binary artists whose progressive work is connected to the body and to identity. The artists reassess our expectations of the human figure and of gender and consider the permeable boundary that exists between ourselves and technology. They embrace the liberation to be found in digital space. They harness the opportunity to subvert the mainstream and create a new disruptive dialogue with the body as their battleground.
"If, as many are suggesting, our species' future now hinges on our capacity to create something different …then what ultimately matters is whether we can rediscover the freedoms that make us human in the first place." ― David Graeber, The Dawn of Everything: A New History of Humanity.
Ellie Pritts - With Figure
Ellie Pritts' saturated digital practice is a tangled collaboration with AI, old school analogue technology and the latest in coding techniques. Her work often, as in this case, begins with a self-portrait, fed through AI and amplified with drawings and painting in ProCreate followed by complex post-processing.
Pritts revels in the interplay between AI generated output and analogue hardware, creating vividly coloured artworks that often barely reference their starting point. Through beginning with an image of the artist herself, Pritts reflects on the role of the artist in creating new work and the creative potential of generative AI.
Kika Nicolela - Tropic 01-03
Kika Nicolela's GIFs Tropic 01-03 are created from her seminal video artwork Tropic of Capricorn, which is a raw and deeply affecting work delving into the experiences of trans women sex workers in Brazil. Creating portraits in their own words, the video portrays its subjects' personal experiences whilst they play with the audience's gaze on their bodies through the camera. A work about looking and performing, the work critically reflects on attitudes towards gender, sexuality and the physical body.
Originally conceived as a site specific video installation, Tropic of Capricorn has been exhibited at numerous locations internationally. Since its release in 2005, it has been honoured at the Sopot Independent Film Festival as Best Documentary and has been nominated as 'Best Film' at both the International Experimental Film Festival Carbunari and Mostra do Filme Livre.
Saeko Ehara, Greenish Mona Lisa
Leonardo da Vinci's Mona Lisa has inspired generations of artists and continues to draw thousands of visitors to the Louvre Museum in Paris today. The portrait has always been one of art history's most mysteriously enchanting artworks and Ehara enjoys playing on its enigmatic charm. It is said that the painting contains elements of Da Vinci's own image as he used his own face to complete the detail.
Taking the work as a starting point, Ehara disrupts and distorts her subject until it dissolves before our eyes. This art historically significant painting is reinterpreted through contemporary digital eyes. In doing so, Ehara's work connects with and re-examines the history of portraiture, the male gaze and the trope of the male artist genius.
Aun Helden - Eternidade
The starting point for Brazilian artist Aun Helden's extraordinary multi-faceted practice is generating doubt and uncertainty around the human body and identity. Her practice embraces metamorphosis, transforming the body through processes of decomposition and degeneration. She embraces synthetic technologies like prosthetics, adapting the body with non-human qualities.
Through these techniques, Helden questions our constructions of identity as well as the historical narratives that shape them. The result is provocative, challenging work that crosses over between performance, film, still image, text and sculpture.
Curator
Kate Neave
Kate Neave is a curator, art writer and creative producer with 10 years experience working with artists and a reputation for initiating groundbreaking projects that nurture some of the most exciting upcoming talent alongside established names. Working across the full remit of contemporary art, from painting to digital practices, she has a passion for working with a diverse selection of artists and...
View curator profile