Performance Anxiety — Part I
Artists
Alfacenttauri
Auriea Harvey
Hardmetacore
Martina Menegon
Tabitha Swanson
Verse is pleased to host Performance Anxiety, curated by Kate Neave. Working with external curators, Verse aims to present works by the digital artists shaping culture today. We can only go so deep ourselves, and so were thrilled when Kate reached out to us with an exhibition that digs deep into conceptually and historically groundbreaking artworks by artists that deserve more of a spotlight.
Kate is an independent curator of contemporary art and art writer contributing to magazines such as Twin, Heroine, Epoch, Public Offerings and Dazed. She is the founder and curator of Ellipsis Prints, commissioning prints from talented women and non-binary artists in the UK. She has curated for Soho House, Manifesta and recently commissioned new music x digital art collaborations for OpenLab. Kate holds an MA in History of Art from the University of Cambridge and an MA in Contemporary Art from Sotheby's Institute in London.
In Performance Anxiety, Kate pursues her long term commitment to championing underrepresented artists with an exhibition that investigates how women and non-binary artists are harnessing the digital space to create a new disruptive dialogue around the body.
Performance Anxiety is a two part exhibition that includes Alfacenttauri, Aun Helden, Auriea Harvey, Hardmetacore, Kika Nicolela, Martina Menegon, Saeko Ehara, Ellie Pritts and Tabitha Swanson.
Explore Performace Anxiety Part II.
"How can we come together in solidarity?" asks Legacy Russell in Glitch Feminism: A Manifesto, "It is our responsibility collectively to infect...to make impossible pathways viable as all else circuits towards a triggered collapse."
Digital space offers the potential for a recalibration. In digital, many rules are suspended and others are easily broken. This presents an opportunity to challenge the restrictive social, political and cultural discourses associated with the body and to step outside the tidy boxes we are expected to fill. It's a space in which we can assert our presence, reclaiming the body to distort tired narratives. Performance Anxiety features women and non-binary artists whose progressive work is connected to the body and to identity. The artists reassess our expectations of the human figure and of gender and consider the permeable boundary that exists between ourselves and technology. They embrace the liberation to be found in digital space. They harness the opportunity to subvert the mainstream and create a new disruptive dialogue with the body as their battleground.
"If, as many are suggesting, our species' future now hinges on our capacity to create something different …then what ultimately matters is whether we can rediscover the freedoms that make us human in the first place." ― David Graeber, The Dawn of Everything: A New History of Humanity.
Performance Anxiety is a two part exhibition that includes the works of Alfacenttauri, Aun Helden, Auriea Harvey, Hardmetacore, Kika Nicolela, Martina Menegon, Saeko Ehara and Tabitha Swanson.
Alfacenttauri - Sacrifice
Felipe Sepúlveda, known as alfacenttauri, is a multidisciplinary Chilean artist. Their speculative digital ecosystems represent a new and hopeful vision for the future beyond the current global crisis. These highly detailed imaginative worlds are inhabited by monstrous creatures and ethereal entities that defy the laws of physics and biology. They represent the limitless potential of the imagination and embrace the endless diversity of nature.
Auriea Harvey - Fauna-Ram (forgery) v2-dv1-4
Auriea Harvey's practice is rooted in the physical and cultural history of classical sculpture which she re-interprets from a contemporary perspective. Her practice interrogates the fundamentals of representation, considering the essence of what it means to reproduce a figure in physical and digital space.
Harvey's Fauna-Ram (forgery) v2-dv1-4 works question the authenticity of cultural artefacts and address the implications of representation and narrative and its imperfect translation into digital media. Her digital sculptures contribute to our ongoing engagement with classical ideas, reanimating forms to engage our audience with their mythological and cultural references through digital representation enhanced by augmented reality.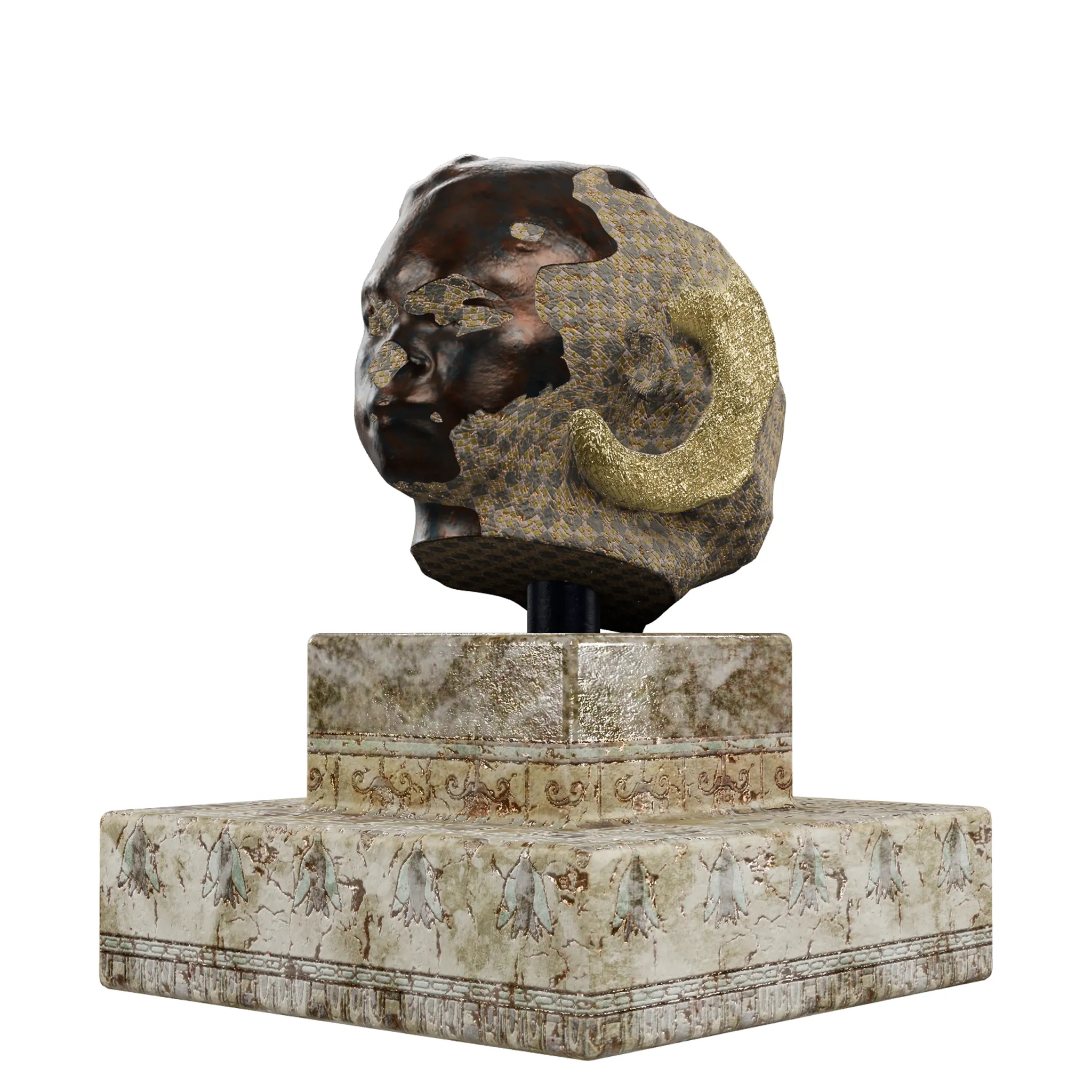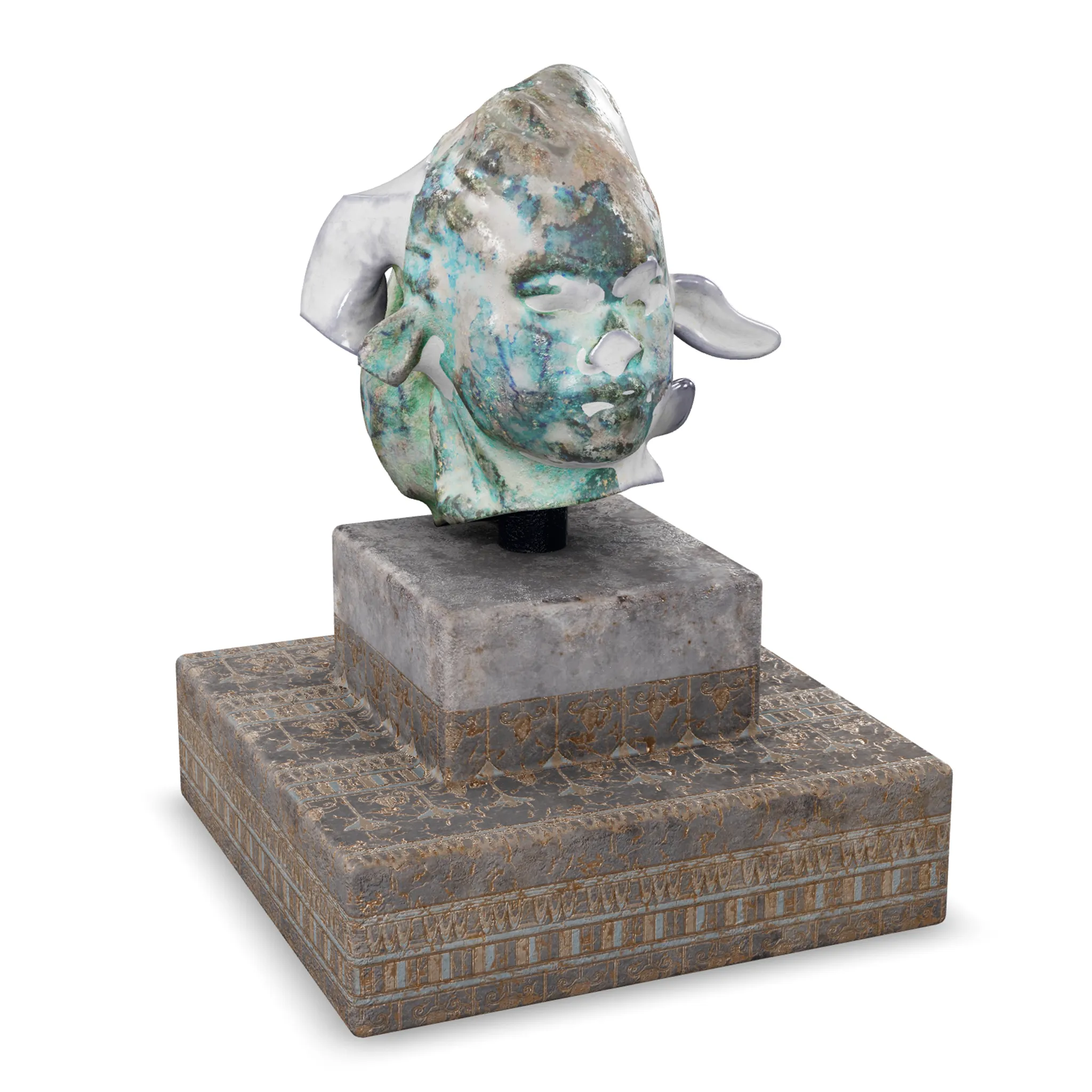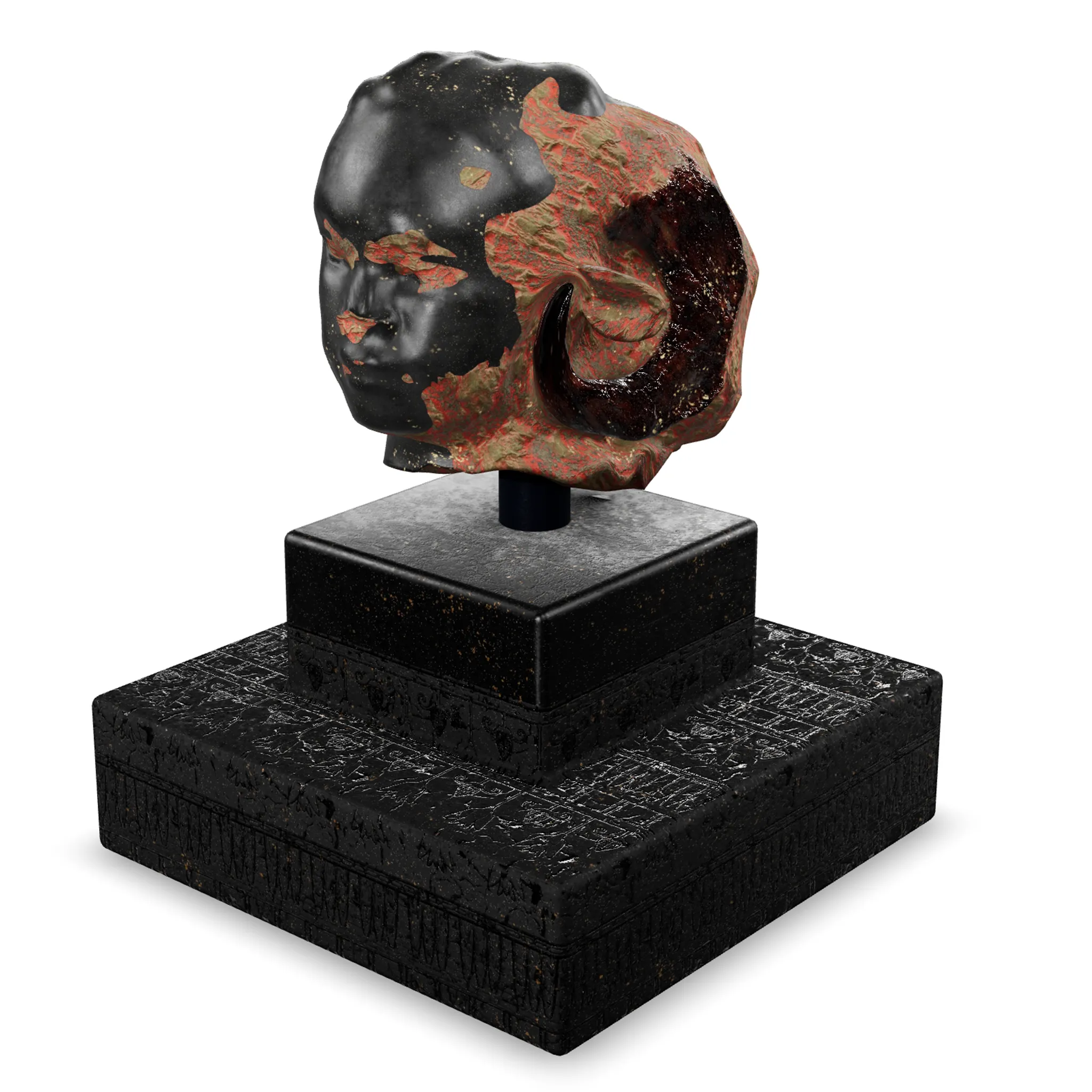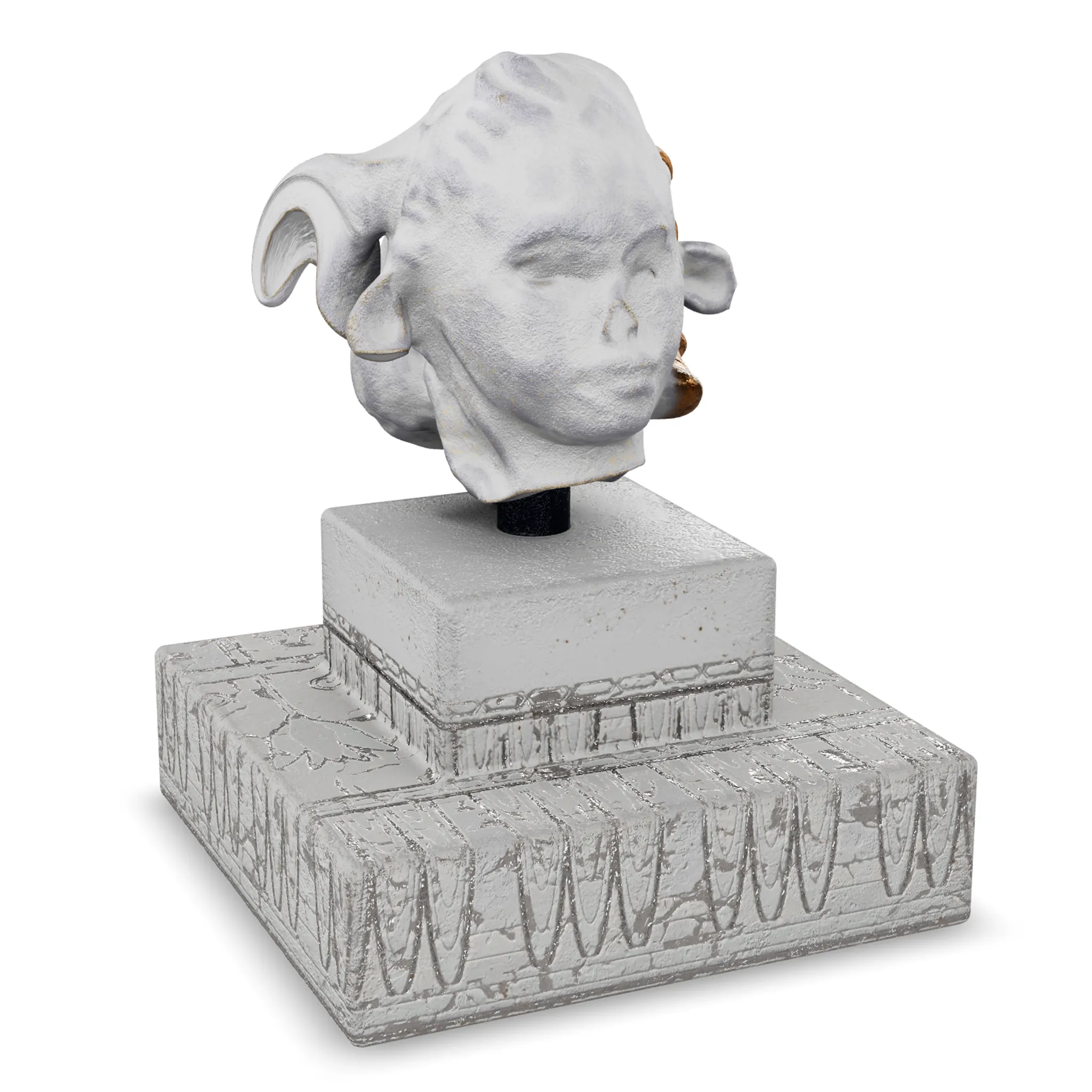 Hardmetacore - My pinkest fantasy
Alessandra Vuillermin, known as hardmetacore's work, starts from a digital redefining of her own self. Taking inspiration from Japanese anime, her high definition characters have exaggerated features and mix a provocative sexuality with a hint of the grotesque. Vuillermin's progressive and innovative work pushes the boundaries of the body in digital space, embracing and reclaiming femininity and sexuality in a more dominant style. Her characters' bold expressions often seem to challenge their viewer to change their perspective.
Martina Menegon - I am but an uneven terrain
Just as a landscape can have different elevations, textures, and colors, the contemporary self can be composed of physical, virtual, and emotional elements that come together to create a unique and complex identity.
Using 3D scanning and the glitch as an artistic medium, Menegon's self-portrait I am but an uneven terrain breaks free from the constraints of physical appearance and explores new forms of expression and representation that challenge the traditional boundaries of identity. It becomes a statement on the complex, hybrid and multifaceted nature of the contemporary self: not perfect but rather a constantly evolving and changing terrain.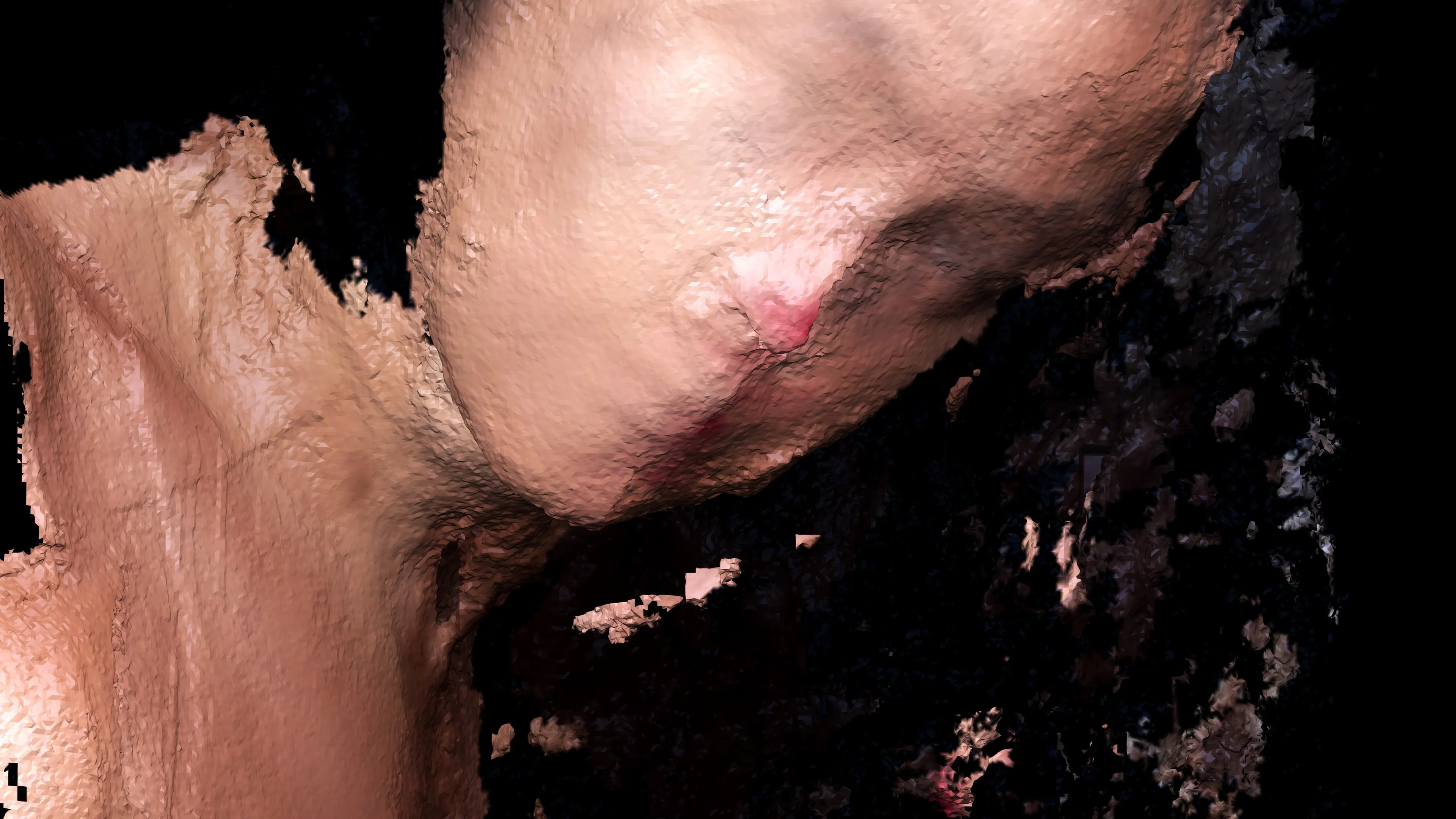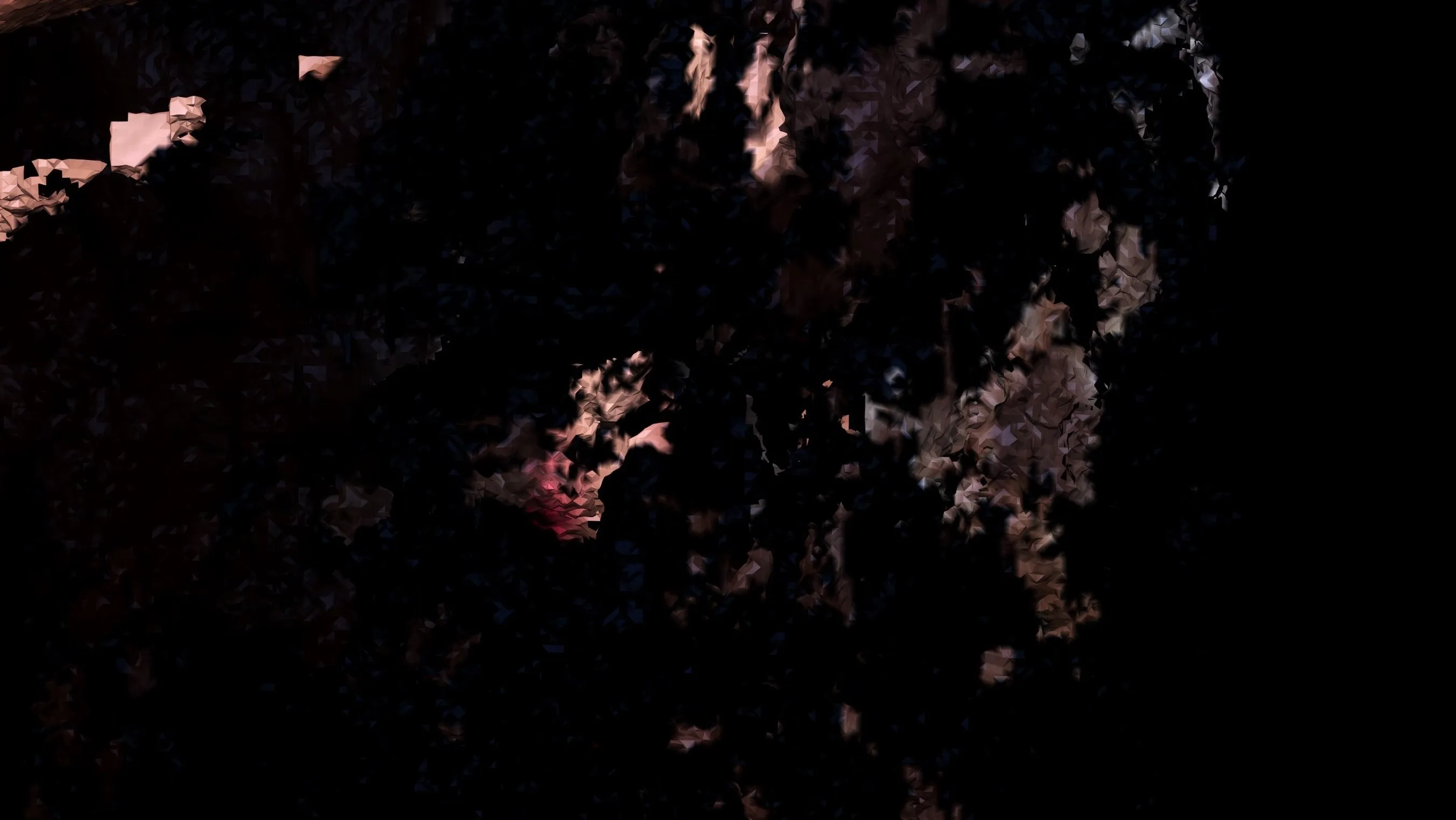 Tabitha Swanson - 𝐿𝒾𝓉𝑒𝓇𝒶𝓁𝓁𝓎, 𝓂𝓎 𝓁𝒾𝒻𝑒
Berlin-based artist Tabitha Swanson's work exists at the permeable boundary between contemporary art, animation, augmented reality, digital sculpture and digital fashion. Working across diverse mediums, her work is in constant exploration, pushing the limits of expectation and redefining what it means to be a contemporary creative. Swanson's pink snakeskin boots are inspired by the strange dreamscapes and evocative textures of surrealist artists as much as high fashion trends. They connect in with a liberated vision of fashion and identity in a future unrestricted by terrestrial concerns.
Curator
Kate Neave
Kate Neave is a curator, art writer and creative producer with 10 years experience working with artists and a reputation for initiating groundbreaking projects that nurture some of the most exciting upcoming talent alongside established names. Working across the full remit of contemporary art, from painting to digital practices, she has a passion for working with a diverse selection of artists and...
View curator profile