On View
5 - 10 Sept 2023
4 Cromwell Place, South Kensington
London SW7 2JE
Sales
Rich Poole - Thursday 21st Sept, 5pm BST
Kelly Milligan - Friday 22nd Sept, 5pm BST
Artists
Rich Poole
Kelly Milligan
Verse is pleased to present Out of Bounds, a joint exhibition featuring New Zealand-based artists Rich Poole and Kelly Milligan. Both artists convey a sense of experimentation with the possibilities of representing minimal abstract compositions through generative practice.
Kelly's artistic prowess lies in the meticulous arrangement of his compositions. Unlike his previous works, in Scatter Process[or], generative algorithmic disruption has been introduced to these compositions. The machine/software scatters the constituent elements of its own creations, then slowly restores them to their clean, ordered, original forms. They evoke the process of transformation.
For Out of Bounds, Kelly has adapted Scatter Process[or] to blend its digital digital medium with physical touch. The catalyst for the disruption comes from the audience's real-time interaction with the artwork. He wanted to make something that feels more natural and recognisable through human eyes as having human warmth, something that was mathematically perfect but organically imperfect. Through the viewer, the pieces become performances.
Rich's new series, Ahunga, takes its name from the Māori word referring to the direction of movement, bearings, orientations. While the series is comprised of still images, each work contains a sense of dynamism, with cubic elements composed in a way that suggests movement and complex spatial relationships, recalling art historical movements such as the Suprematism of the early 20th century.
Ahunga's varied algorithm draws inspiration from Poole's early physical plotter work, where he weaved generative art into his creative process. The result is a curated collection that brings to mind early print techniques like wood blocking and etchings. Each artwork introduces different textures and styles, representing the potential of generative art and expanding our understanding of the medium's possibilities. Through his work, Rich asks us to embrace the symbiotic relationship between human creativity and the ability of the code, showcasing the boundless possibilities that arise from this harmonious union.
Both artists encourage the viewer to transcend the surface and explore the intricate connections between art and perception. Ultimately, their works make us contemplate the profound beauty found within the interplay of simplicity and complexity.
Rich Poole
Rich Poole is a generative artist, born in the UK, now living in the South Island of New Zealand. With a background in engineering and fluid dynamics, Rich's work often explores...
View profile
Kelly Milligan
With roots in creative development in the browser, I translate practical code patterns into algorithmic and generative art: for-print, in-motion, and fully interactive. I aim for...
View profile
Ahunga is composed of artist-curated outputs from a long-form algorithm exploring the origins of Rich's early physical plotter work. It represents a journey of reflection, introspection, and discovery.
The chosen works speak to the power of generative art to surprise and delight. Challenging our perceptions of what it means to draw in tandem with a machine without losing our own voice.
Rich Poole
'My hope is that my work demonstrates the extraordinary potential for generative art to delight and surprise, whilst retaining the imperfections and character that make humans more fascinating than any machine.'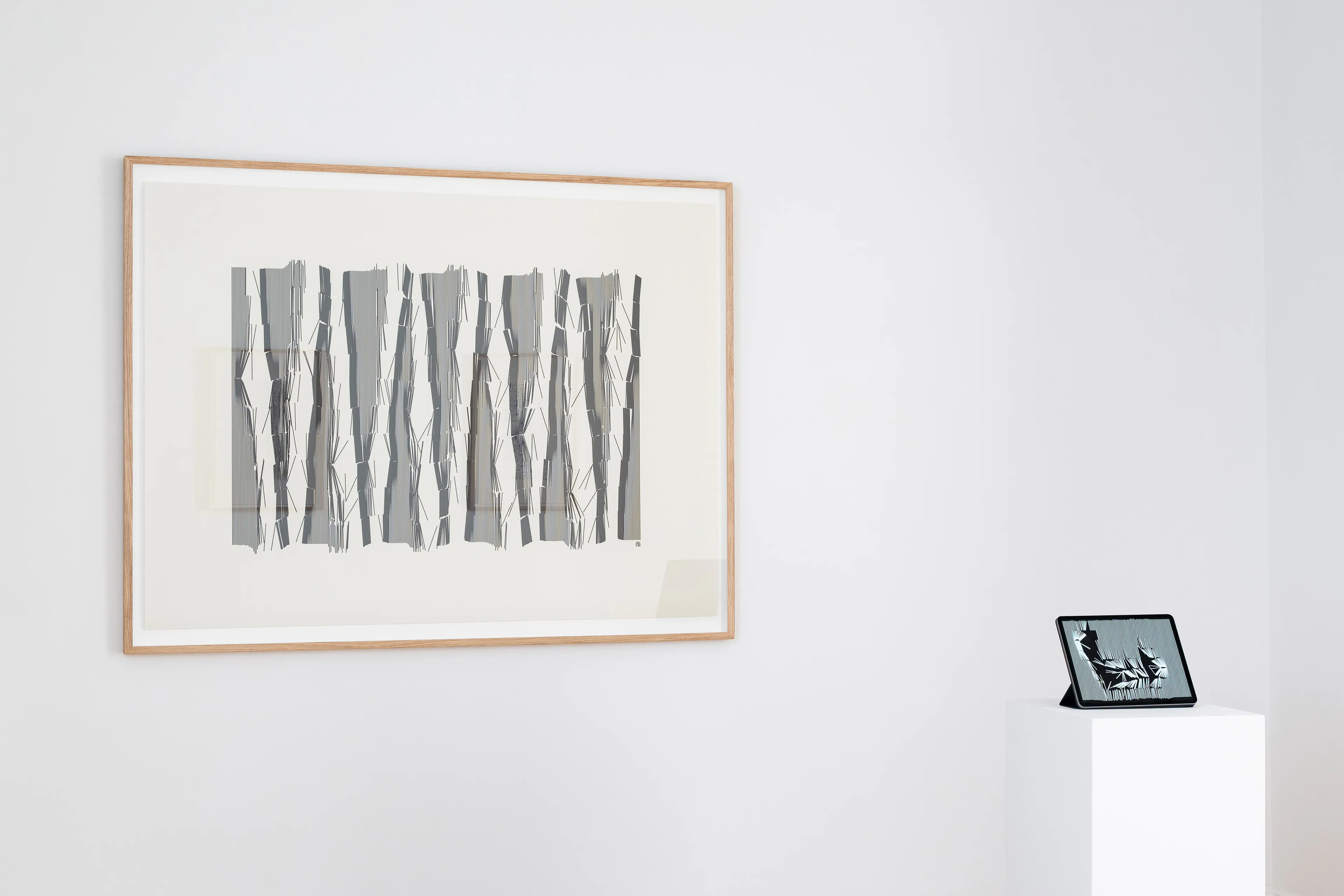 An arrangement too orderly, effortless work for these Digital hands. Purity through precision, excellence unmatched by the creator. To win the hearts and minds of those replaced: add a touch of warmth, soften through disruption, be clumsy and imperfect. Autonomous practice in being more messy.
A continued study into scattering arrangement. Composition-through-simulation where simple individual pieces are dispersed with physicality. These "simulative" experiments reveal hidden complexity unlocked by bringing 2D forms into a physically simulated environment. Recognisable force, form and charm emerges in the abstract, readily inferred through human eyes. A nod to much of Molnar's work; this breaking of rigid mechanical structure injects meaning into what are fundamentally simple compositions.
Kelly Milligan