cydr
New-life, to Still-life
Verse is thrilled to bring you the newest series of work by Brazilian artist cydr. Like a tapestry this series weaves together cydr's personal history, inspirations, and experiences, from his background in video games to his unique form of synesthesia.
New-life, to Still-life exudes a nostalgic charm reminiscent of old video games, capturing the essence of a bygone era while embracing modern digital techniques. Using fruit as his focal point, these works provide a commentary on the juxtaposition of natural forms and digital aesthetics. With each pixel, cydr invites us to reconsider our perceptions and embrace the beauty that exists within distortion.
Cydr first began making digital art when he was encouraged by artist Omentejovem in 2020. Until then, his work had always been experimental, typically blending elements of photographic manipulation and collage, but this was a pivotal moment in cydr's artistic practice. He had previously been a physical creator and digital admirer, but beyond early experiments in Photoshop this was the beginning of his path to digital creation.
Cydr's work playfully teeters on the boundary of low-poly, an art form originating from early gaming designs when processing capabilities reduced the level of detail and texture that could be achieved visually. It is nostalgic and reminiscent of 2D pixel art, but has remained popular over time. Cydr incorporated these elements into this series of work, which blends organic elements with a pixelated aesthetic and low-resolution textures. However, in contrast to the muted colour palette of many old video games such as Call of Duty (COD) which cydr grew up playing, the works in New-life, to Still-life are hyper saturated, he's flipped the script.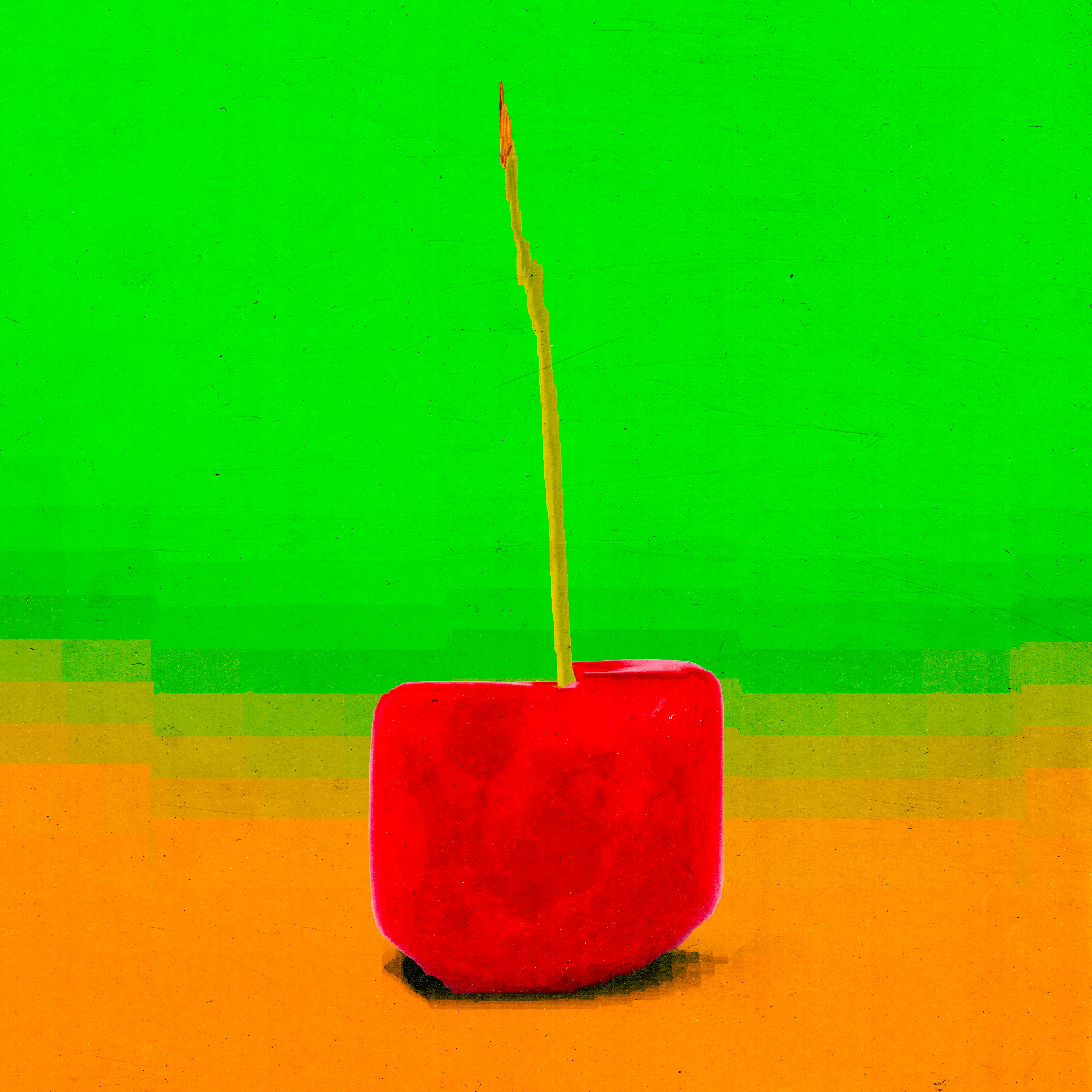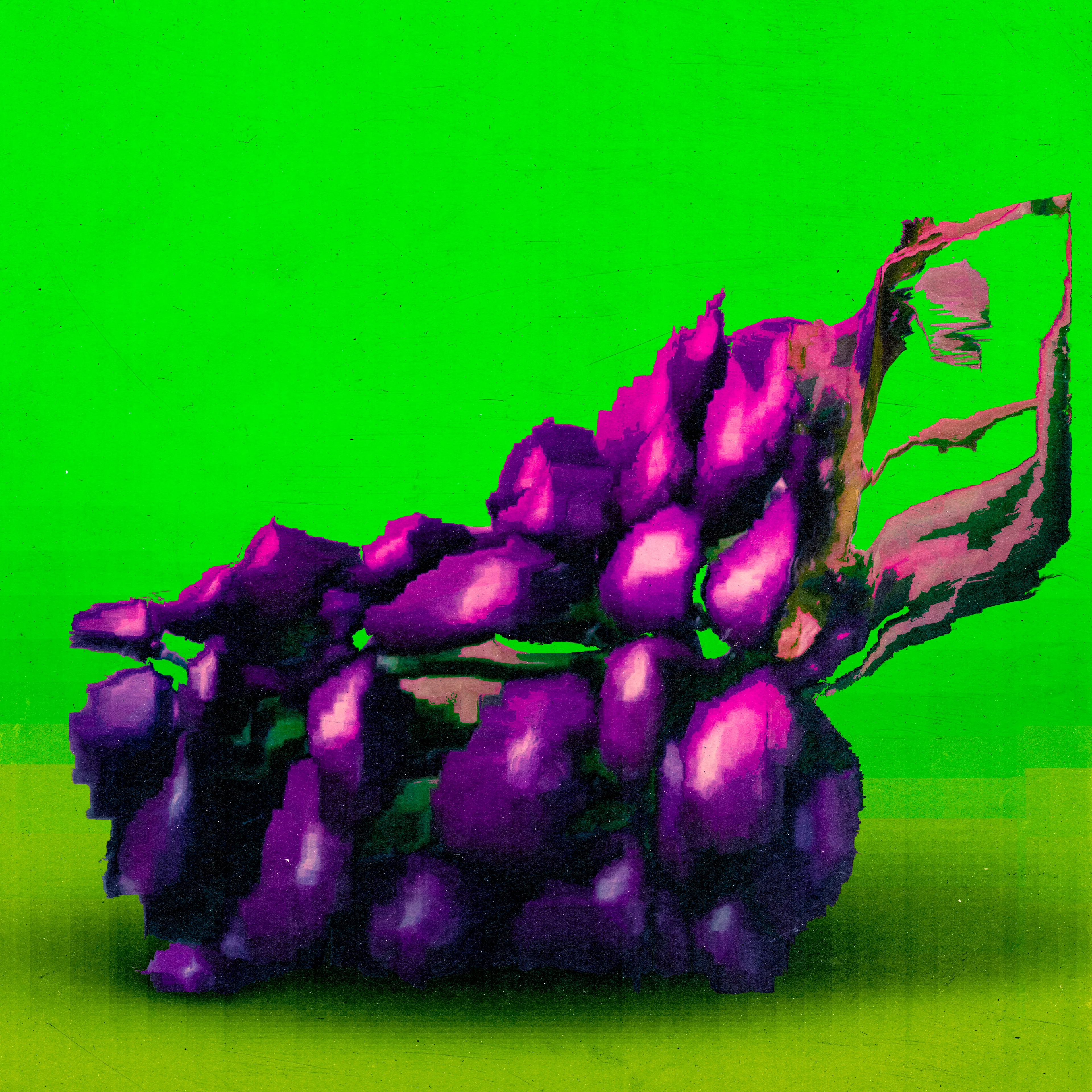 The use of colour in these works is striking, and absolutely fascinating given that cydr is colour blind. If cydr puts a green next to an orange, and they are the exact same tone, he can't tell which one is which. He says, 'Both of them are orange, both of them are green'.
Cydr's unique relationship with colour has another element too, he has a form of synesthesia where he feels certain colours and emotions when he eats. He's compared this to a scene from Ratatouille when Remy sees bursts of bright colours when eating a strawberry. Just as eating is a multi-sensory experience for cydr, he has tried to create a multi-sensory experience for viewers of his work using an interplay of colours and textures.
Cydr's art is characterized by its deliberate distortion and pixelation, a nod to his digital roots and a somewhat philosophical questioning of personal perspectives. 'I see distortion as a way to portray how people may view the world; sometimes they don't quite remember certain aspects of things, sometimes they may have been told something looks like a certain thing, but in reality it may be something else…the distortion may often represent how people see themselves and their surroundings; perceive flaws or imperfections that others might not notice.'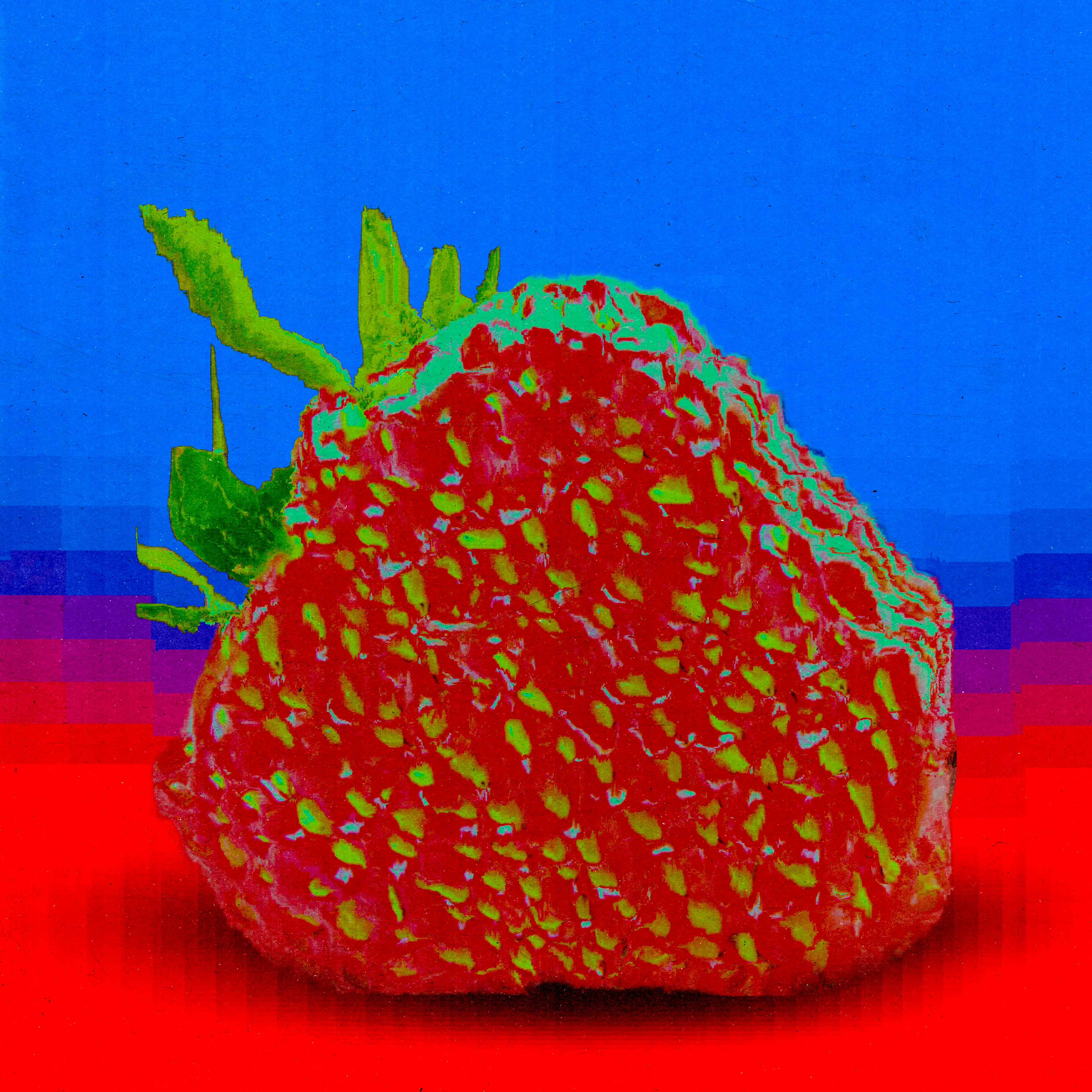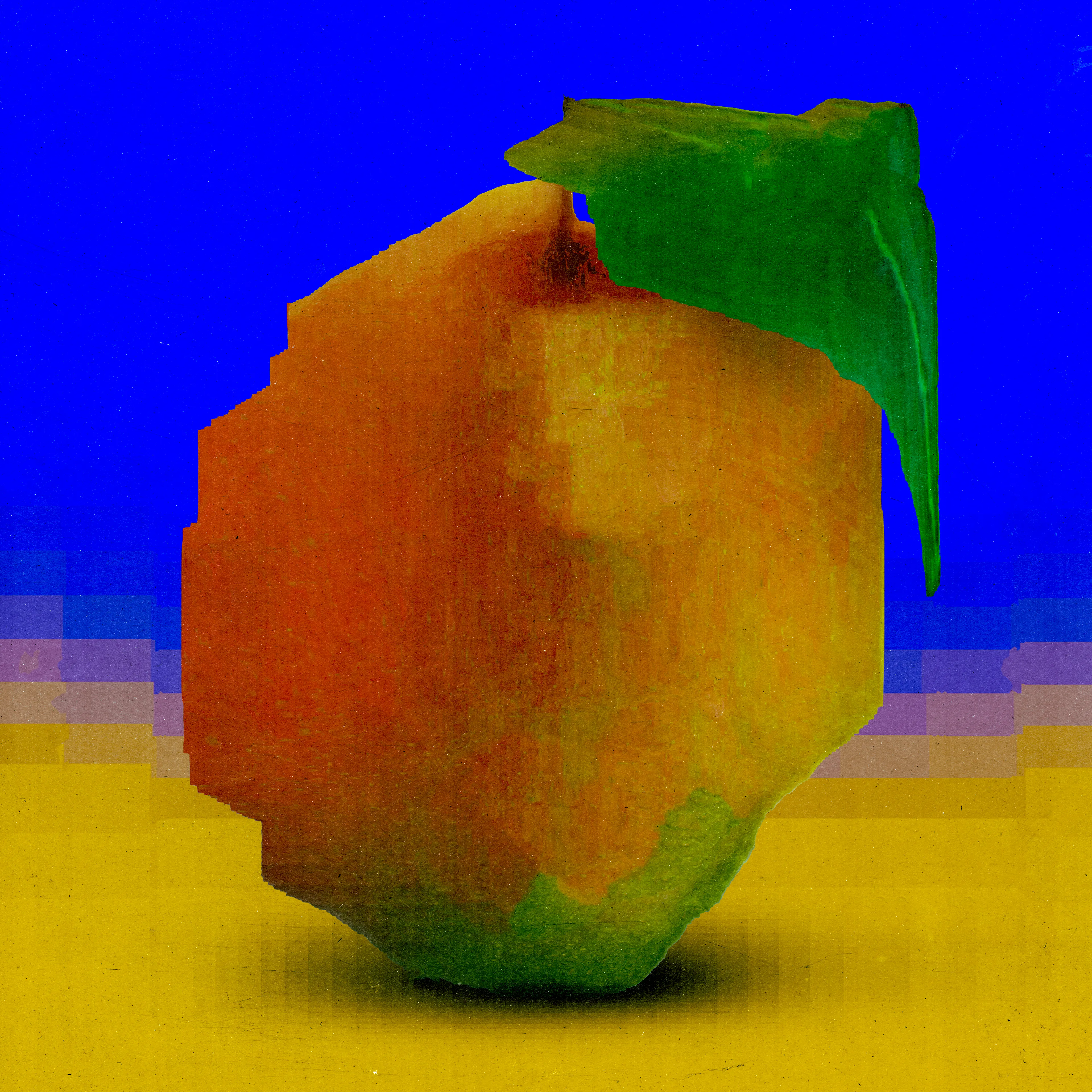 The use of organic forms is a new element in cydr's practice, inspired by the work of Scratch Williams who introduced him to the still life genre. Still life's are concerned with organic forms, cydr has historically focused on digital forms, and in this series he has brought them together in a harmonious fusion that reflects contemporary life. Some of the fruits depicted in these works (such as the grapes, the watermelon, the pitaya) seem painterly despite their digital distortion, it is almost as if you can see brush strokes. This painterly essence is only present in the foreground of the works, creating the textures of the fruits, whereas the backgrounds are flatter, more overtly pixelated.
Some of the backgrounds almost have a horizon line, yet despite the fruits being placed within interior environments (they are not outside), the backgrounds appear almost like flat planes in contrast to the fruits which have more prominent shadows. Each work also has scratches on the surface, which adds further texture and once more recalls traditional paintings, playfully blending the physical with the digital.
Cydr believes in the freedom of interpretation and the necessity of play in artistic practice, it is important to him to create work that is both fun and pushes boundaries.
Artist
cydr
Cydr is based in Curitiba, Brazil. He works with mixed media and illustrations as a way to express his distorted mind. Although always creating as a child, he only caught up with his passion as he got older and his vision formed - he finally felt ready to put what was learnt to the test by transitioning into the art field itself, as a way to truly express what he feels with the help of his...
View artist profile
Curator
Ivan Zhyzhkevych
As a long-time collector with an unparalleled passion for digital art, Ivan curates from the heart.
View curator profile