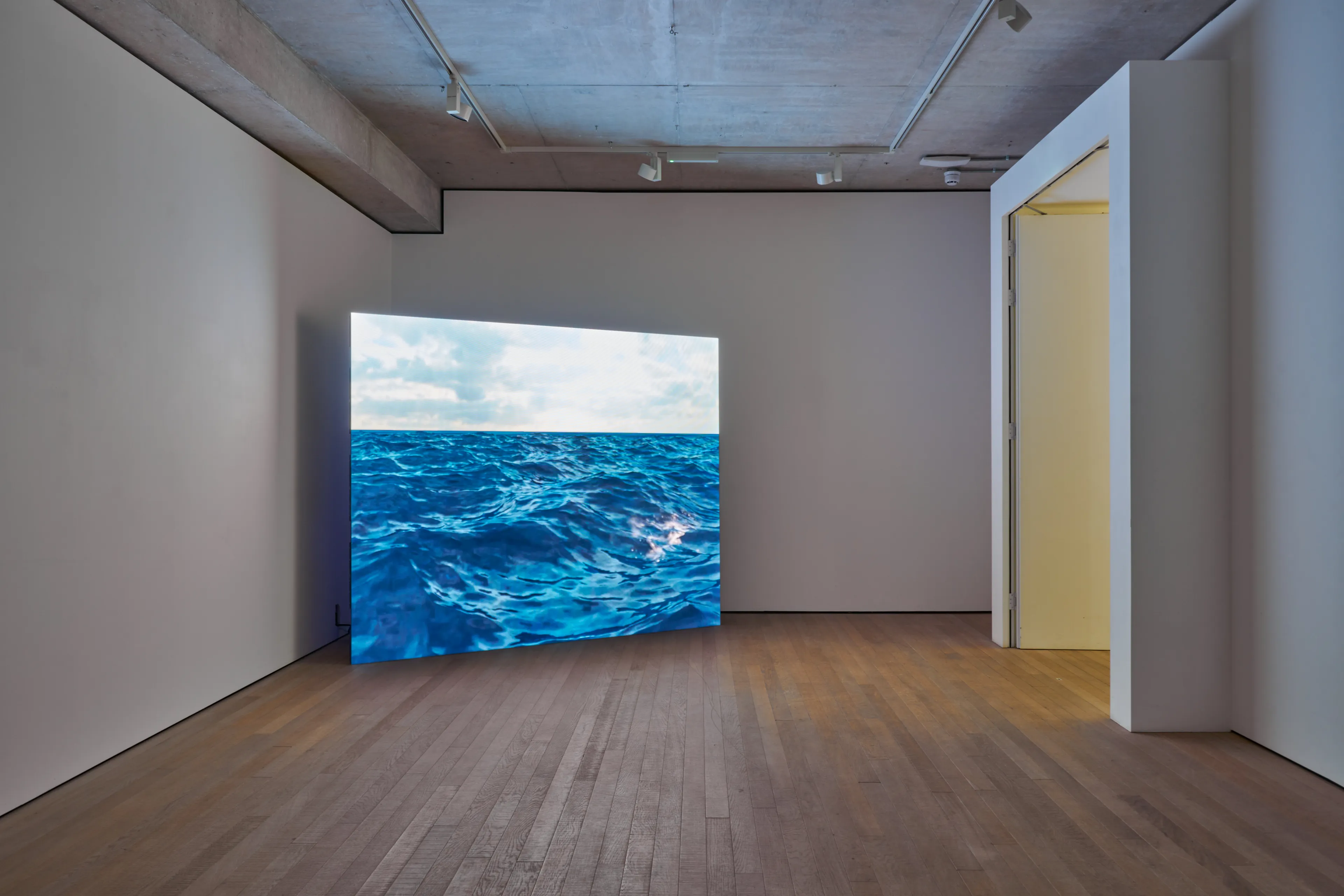 Haroon Mirza Skip_loop
HERE Opening event
Saturday 25th November 2023
4 - 5pm: Jan Robert Leegte with Pita Arreola (Digital Art Curator, V&A)
5 - 6pm: Haroon Mirza with Kostas Kostas Stasinopoulos (Curator, Serpentine)
6 - 10pm: DJ set by AHMD (Artists Eddie Peake, Prem Sahib and George Henry Longly)
Free & Open to Public
25 - 26 Nov 2023
Address
9 Cork St
London W1S 3LL
Verse is delighted to present Haroon Mirza's Skip_loop, a software-generated exploration of our evolving relationship with art and technology.
This piece is a six-second digital emulation of the sea, a duration designed to mirror the average time people spend observing artworks in exhibitions.
Skip Loop serves as a commentary on the reduced attention spans brought about by the digital age, creating a hyperreal seascape that exists solely within the digital realm, challenging our perception of reality.
This work is presented as part of HERE, an event dedicated to digital art taking place at 9 Cork Street, Frieze Gallery in London. This event represents an extension of Verse's ongoing partnership with galleries and artists who have shown dedication to fostering the growth of digital art within the contemporary art scene.
Haroon Mirza is internationally renowned for his innovative installations, which explore the intricate interplay between sound, light waves, and electric current. He is a champion of interference within the realm of electro-acoustic and radio disruptions, intentionally creating situations that challenge conventional norms. In his role as a composer, Mirza skillfully manipulates the intangible and volatile force of electricity, coaxing it to move to a different rhythm.
His toolkit encompasses a wide range of materials, from household electronics, vinyl records, and turntables to LEDs, furniture, video footage, and pre-existing artworks, each compelled to manifest in unconventional ways. This transparency in his processes allows sounds to assert their presence in a disorderly fashion, challenging established codes of conduct and infusing the environment with a charged ambience.
Artist
Haroon Mirza
Haroon Mirza was born in 1977 in London, where he still lives and works. He has a BA in painting from Winchester School of Art, and MAs in critical practice and theory from Goldsmiths College, London, and in fine art from Chelsea College of Art and Design. While evolving an a disciplinary practice, he manipulates electricity, his primary medium to devise sculptures, performances, and immersive...
View artist profile
Curator
Lisson Gallery
Lisson Gallery is one of the most influential and longest-running international contemporary art galleries in the world. Today the gallery supports and promotes the work of more than 60 international artists across two spaces in London, two in New York, one in Shanghai and Beijing, as well as a forthcoming gallery in Los Angeles, opening 15 April. Established in 1967 by Nicholas Logsdail, Lisson...
View curator profile